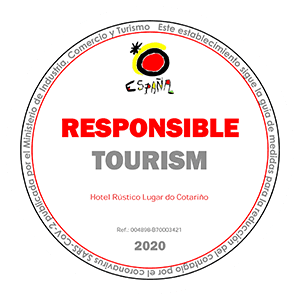 Welcome to Hotel Rústico Lugar do Cotariño.
Tradition and comfort at the very heart of the Costa da Morte
Hotel Rústico Lugar do Cotariño is located at the heart of the Costa da Morte, in the region of Terra de Soneíra in Camariñas (A Coruña).
It consists of a small hamlet of three houses (all three of which are occupied by the hotel), set among eucalyptus and pine groves and corn fields. It is a short distance from the beaches of the estuary and the Costa de Reira (Cabo Vilán Natural Site, belonging to the Natura 2000 Network).
OUR ROOMS
We provide 7 rooms which are divided between the three houses:
The biggest and oldest house, which was built in 1713, houses our two special rooms. In the second house, we have 4 rooms: two on the first floor and another two on the ground floor.
In the third house, we have a room which has been specially adapted for guests with reduced mobility…
Book directly with us and we will guarantee you the best price.
SURROUNDINGS
The Costa da Morte: deserted, spectacular and wild. Nature in its purest state.
THE OPINION OF OUR GUESTS
Beautiful!
Such a beautiful and well restored hotel. Would recommend it, if you love quiet and remote but beautiful surroundings. Alberto is very welcoming and the tour of the property was very interesting. He is clearly very proud (and rightly so) of this lovely place 🙂
Rural retreat, don't miss dinner!
This is a beautiful, family run hotel in restored farm house. Our room was lovely, spacious with good shower room. Breakfast was fairly simple but excellent with freshly cooked eggs. Lovely quiet location just a short drive from some of the most impressive costline we (…)
Lovely old-style hotel set in nice countryside
This hotel is based on a renovated farmhouse. The rooms are spacious, well designed and comfortable. The owner is very helpful, though his Spanish is better than his English. Nice breakfast and good broadband. The hotel is outside Camarinas in a nice countryside area (…)